Yuksom
Yuksom is one of the small state of Sikkim and famous for its breath taking views of snow capped mountains and landscapes. This placeis for those seeking respite from the fast paced life so here you go for the perfect destination to unwind and chill. It is also popular as the 'gateway to Kangchendzongha' and gives you the clear picture of historical beauties via experiencing the view of monasteries and Buddhist heritage.
The art and culture beckons people and the inspiring beauty of natural atmosphere tells many stories. The tranquil waterfalls, valleys and lakes are the perfect refuge for mind, body and soul. With a contrast of the most unique experiences right from adventure thrills and historic landmarks to serene backwards and energetic celebrations, anything you choose to do in Yuksom will revitalize.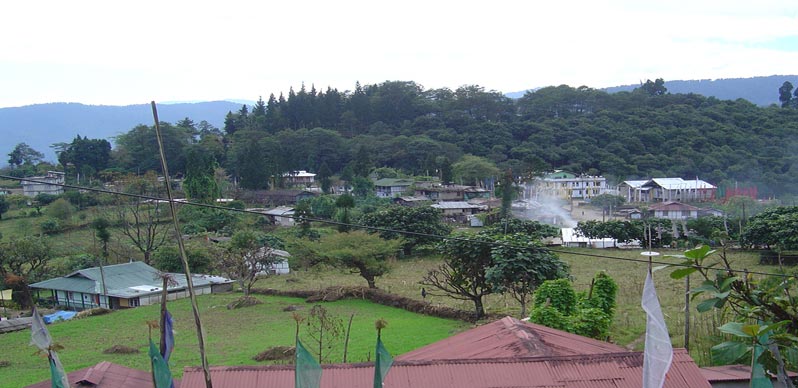 The hotspot such as Kanchenjunga falls, Tashiding Monastery, Singhore Bridge, Khecheopalri lake, Dubdi Gompa, Mani Hall and many more other Yuksom attractions are the few of the luxuriate in providing soul stirring experience.
Hotels And Resorts In Yuksom: 
The most relaxing hotels and resorts you can avail in Yuksom and the epic hospitality will move you everytime you spend your holiday there. This captivating tourism place has much more to offer and keeps you away from the hustle and bustle of the metropolis. Soak in the scenic surroundings full of beauty and rediscover the real you in close to the natural view. Hotels for the stay also offer natural surroundings that make sure your connectivity with the spots you want to access is stronger. Yuksom has all kind of hotels like several budget to medium range accommodation. The rustic feel stay situated amidst the jungle is also available for your treat.
Must Visit Places In Yuksom :
There are multiple places can be covered when you are holidaying in Yuksom. Indulge in visiting few attractions such as Tashiding Monastery, Dubdi Monastery, Coronation Throne of Norbugane, Kartok Monastery and many more.
Shopping In Yuksom :
Yuksom is a unique place in tradition and culture when it comes to attire. They dress up in jewelleries and kimonos witness the bizarre beauty and elegance. There are many shops for all your needs from canvas paintings, handmade bags, paper products and many more.
Cuisine Of Yuksom :
Traveling all over the different places educates you about different culture. When it comes to have cuisines in Yuksom, there are few varieties that leave your taste buds authentic.
Do's And Don'ts For Tourism In Yuksom :
Traveling with local and genuine guide will be very helpful and less time consuming when it comes to cover different beautiful places.
Dressing is also important to take note on as you are visiting lot of monasteries, temples and sightseeing so dress with elegance touch will be good options and carry always warm clothes as well.
Seek always permission when you are taking pictures of any spots.