Places To See In Sikkim
Sikkim – one of the most fascinating Indian state with exclusive green environment and appealing surroundings is a perfect holiday destination in India for tourists who seek peace of mind in the lap of Mother Nature from their routine life. Sikkim is famous for its astonishing beauty. The state shares its borders with Tibet, Nepal and Bhutan as in the west side, there is Nepal, to its North East border, there is Tibet and to the southeast, there is Bhutan. The key attractions of this beautiful state is the serene mountainous terrains which are elevated from 920 ft to 28000 ft. The huge heights and beauty of this place leaves the travellers spellbound, making Sikkim a fabulous tourists' destination for adventure lovers to enjoy the fun of trekking.
Main Tourists' Attraction In Sikkim-
The main Sikkim tourism is categorised in four parts including north Sikkim tours, east Sikkim tour, south Sikkim tours and west Sikkim tour. Here are detailed explanation of each tour option for tourists in Sikkim.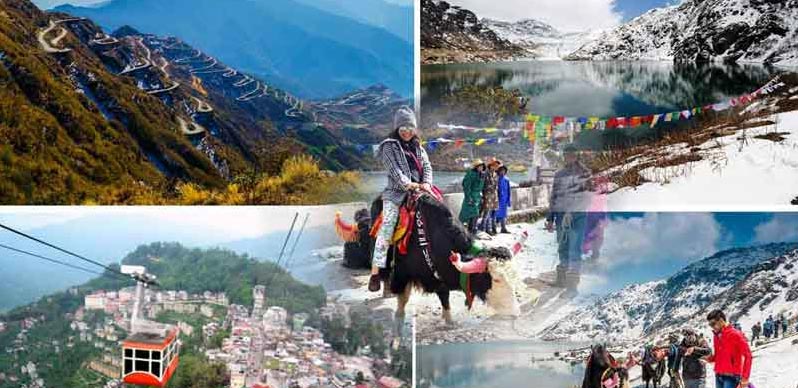 North Sikkim Tourism-
In north Sikkim tourism, you get a chance to absorb the mysterious beauty and amazing landscapes of northern Sikkim. The famous places in this area include Kabi Longtsok, Singhik, Mangan, Phodong Monastery, Lachen and Chugthang Monastery.
Eastern Sikkim Tourism-
The area of eastern Sikkim falls across the east south part of Sikkim that is known as a hub of administrative activities of the state. The attractions of this area include Deer Park, Government Institute of Cottage Industry, Hanuman Tok etc.
Southern Sikkim Tourism-
Spanned in an altitude of 400 mts to 2000 mts, this part serves a soothing weather all round a year. Due to such a soothing climate, this place remains always relaxing and humble for vacationers. In this part, the most attractive views can be spotted in places like Tendong Hill, Namchi, Temi Tea garden and Ravangla.
Western Sikkim Tourism-
For those who love trekking, it is the most attractive part of Sikkim tourism. In the western Sikkim part, you will see a huge variety of attractive flora and fauna. The main attractions of this part include Tashiding Monastery, Gyalshing, Permayangtse Monastery etc.
Trekking In Sikkim-
Sikkim has many fabulous places that are ideal for trekking. Following are few key trekking destinations where you can have the unique experience while your tour to Sikkim.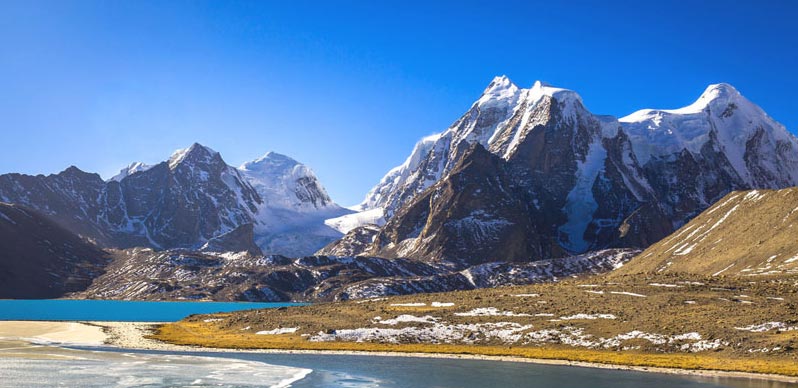 Darjeeling – Kanchenjunga Trek-
For the amazing altitudes, this place is known for ultimate trekking experience among tourists or adventure lovers. In Darjeeling – Kanchenjunga trek, you cover places like Garibas – Sandakphu, Dzongri – Thangsing, Raman – Rimbik etc. Being the highest range, Kanchenjunga presents a fascinating view and attracts adventure enthusiasts in huge numbers from different parts of the world.
Sikkim – Darjeeling Trek-
To add more options to trekking lovers, Sikkim – Darjeeling trek is a fabulous option for tourists. This trek offers a lifetime experience for trekking enthusiasts. It is beautiful trek with exquisite places include Martam – Gangtok, Gangtok – Bagdogra etc.
Off Beaten Sikkim Treks-
When it comes to trekking in India, the name of Sikkim comes at first as it features a great scenic beauty with phenomenal tranquillity. In this state, you can find countless off-beaten trekking sites including Tolung Monastery trek, Rabongla – Maenam Bhaledunga trek and Damthang – Tedong Trek naming a few of them.
Singalila Ridge – Goecha La Trekking Destination-
This trek provides an eye-catchy experience and can appeal tourists in large number from all around the world. The main attractions of this trek include Sandakphu – Gairibas, Sandakphu – Phalut and many more.
Cultural Sikkim Tour –
Sikkim is not only famous for its scenic beauty and exclusive existence of nature, but it features a diversity in culture, people and cuisines. The combination of all these aspects turn Sikkim to be a mesmerizing tourist's destination in India for vacationers. The main inhabitants of this place are categorised as below -
Situated 13 kilometers from the town at an altitude of 2590 meters (8482 ft.), has earned international fame for its magnificent view of the sunrise over the "Kanchanjunga" and the great eastern Himalayan peaks. On a clear sky even Mount Everest, the world's highest peak, is visible from here along with other Himalayan giant Lhotse,Makalu,Janu,Rathong,Kabru, Pandim,Simvo and Siniolchu.
Kalimpong
At an altitude of 1250m, this tranquil hill station is located on top of a ridge on the east of river Teesta. Kalimpong is known for its educational institutions many of which were established during the British colonial period. It used to be a gateway in the trade between Tibet and India prior to China's annexation of Tibet and the Sino-Indian War.
The town is famous for its indigenous handicraft. The artisans here produce Tibetan and Bhutanese handicraft and jewellery such as woodcarvings, copperware like feng-sui bells, tapestry bags, scrolls, paintings and Tibetan jewellery.
Horticulture is also important to Kalimpong: it has a flower market notable for its wide array of orchids; nurseries, which export Himalayan grown flower bulbs, tubers and rhizomes, contribute to the economy of Kalimpong. Home to ethnic Nepalis, indigenous ethnic groups and non-native migrants from other parts of India, the town also is a religious centre of Buddhism. The Buddhist monastery Zang Dhok Palri Phodang holds a number of rare Tibetan Buddhist scriptures.
The culture of this state resides in the its unique art and amazing craft. The most noticeable works of Sikkim are wood carvings, knotted carpets of woollen containing dragon emblem and 8 auspicious signs. In addition, the handlooms of Lepcha with rich colours and designs for bags, linen, clothes and accessories are in high demand and fashion.
Sikkim Tourist Places
Sikkim is one of the most enchanting and a sacred place to visit in India, despite the truth that it is not very easily accessible from the major cities of the country. Apart from heritage sites and monasteries, there is an extremely rich biodiversity here. This small Indian state is blessed with mind-boggling array of exotic flora and fauna. The hills and valleys abound with numerous orchids, Primula, marigolds, rhododendrons, and cherries. The west district of Sikkim offers spectacular views of the Kanchenjunga range from Pelling and Pemayangtse. Flowing rivers and waterfalls, rough mountains and deep valleys to dense forests, Sikkim has all the potential to offer visual feast. Major tourist attraction include Gangtok, Pelling, Yumthang valley, Chungthang, Gurudongmar lake, Ravangla, Namchi and Temi Tea Garden.
Gangtok :
Gangtok, the capital of Sikkim and the headquarters of East Sikkim district, is one of the important hill stations in north east India. Gangtok, which literally means 'top of a hill', is also the largest town in Sikkim. It lies on a ridge, at an attitude of 1547 m above sea level, overlooking the picturesque Ranipool River. Gangtok is famous for its monasteries and the magnificent views of the Himalayas.
Pelling :
A quaint little town at the foot of the snow capped Kanchenjunga; Pelling is on the state highway connecting Gangtok and Yukson, 125 km west of Gangtok. Pelling is famous for its magnificent view of Kanchenjunga. Major tourist attractions include the Sanga Chelling Monastery - the oldest monastery in Sikkim, Khecheopalri Lake – regarded as one of the sacred lakes of Sikkim, and the Sangay Waterfalls (10 km). Pelling offers stunning views of the Koktang, Kumbhakarna, Rathong, Kabru, Dom, Kanchenjunga, and Pandim. Best time to visit Pelling is in the months of October, N0ovember, March and April.
Gurudongmar Lake :
Located at an altitude of over 18,000 ft, this is one of the most sacred lakes of Sikkim, revered both by Buddhists and the Hindus. The lake looks milky in color round the year and it is believed that Guru Padmasambhava had touched the lake while he visited Tibet from this area. The lake is around 150 km from Gangtok.
Yumthang Valley :
Yumthang valley, popularly called as the valley of flowers is situated in North Sikkim at a distance of 148 km from Gangtok. It is heaven for nature lovers with fascinating blend of exotic flora and fauna. This beautiful valley is home to many species of Himalayan flowers. Wild flowers like primulas and Rhododendron covers the whole landscape in rich colors in spring season and making it a hot spot for tourists in north Sikkim.
Chungthang Valley :
This small town falls on way to Yumthang. This wonderful valley is located at the confluence of the two rivers of North Sikkim Lachen Chu and Lachung Chu. This particular valley is considered to be a most sacred valley of Sikkim which has been praised by Guru Padmasambhava, the patron saint of Sikkim.
Namchi :
Namchi, a small town and the administrative headquarters of the South Sikkim district, is accessible from the neighboring state of West Bengal. Nestled among the dignified Himalayan ranges, it holds a panorama of Darjiling, Kalimpong, the Himalayan peaks, and vast stretches of the valley. With its enormous potential for all round tourist activities, Namchi is fast developing into tourists destinations. Sandrupste, Namchi Monastery, Tendong Hills, Ravangla, Maenam Hill, Jorethang, Temi tea Garden Borong, Singchu-thang, Sikip and Phur Tsa Chu are nearby places of tourist's interest.
Ravangla :
A small town situated on the ridge between Maenam and Tendong hills, the Ravangal Bazaar here is quite famous. The nearby located villages like Yangang, Tinkitam, Barfung, Kewzing, and Bakhim are ideal for short stays and treks. The mountains, waterfalls, tea gardens, quaint villages, local Sikkimese culture, monasteries, and fresh cold winds create an ambience perfect for village tourism, and wildlife watching and photography.