Nathula Pass And The Old Silk Route
Being an important pass on the intersection of the Indo-China border, historic Nathula Pass forms a part of an offshoot of the Old Silk Route. Nathula is a mountain pass located in Eastern Sikkim that serves as the trade link between India and China. It is situated at an elevation of 14,140 feet and ranks amongst the highest passes accessible by tourists via surface road. Nathula is about 56 kilometer away from Gangtok. It was the place through which the well known Silk Route used to operate until 1962. Lines of mules were used to carry gold, silk and many other valuable items from Tibet to India. Actually, the Old Silk Route passing through Lhasa, Sikkim and Eastern India used to go through Nathula Pass. Chumbi Valley of Tibet is the other side of the Nathila Pass. The place is marked by Entrance Gates of both countries - India and China and military bankers are deployed on the both sides of the gate. If you look on to the Indian side, you would see some fortified military bankers, an army exhibition center, a war memorial etc.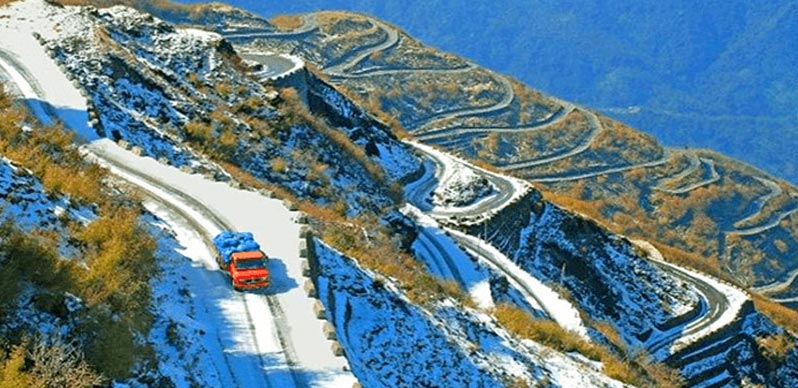 What To See In Nathula Pass
The zigzag Gangtok - Nathula Highway is one of the most beautiful mountain roads of the world. Approximately, 60 kilometer from Gangtok, crossing the blue Tsomgo Lake (also known as Changu Lake) and the new Baba Harbhajan Mandir, the road is an adventure itself. If you are visiting Sikkim on a clear day, you also enjoy majestic views of Mt. Chomolhari from Nathula Pass. Tourists visiting Natula Pass abandon their vehicles, few paces away from pass to reach actual border. This legendary trade route was closed down in 1961 due to the Indo-China war. Recently, after memorandum of understanding between the two countries, trading on some commodities has been started recently.
Tourists need to climb approx 90 steps to reach the border gates and memorial. It may be tiresome climbing this high altitude. So, it is always advisable to take it easy and do not rush up the stairs.
Best Time To Visit Nathula Pass
The month of October to May is the most suitable time to visit Nathula Pass. The region experiences heavy snowfall during winter season. The temperature may drop down to a sheer minus 25 degrees. However, if you love snow, you can visit Nathula Pass in winter season. But you need to carry proper woolen garment and follow some important precautions. The view of the snow-capped mountains and snow covered valleys all around mesmerizes you. May to mid November is the summer season in Nathula region and the temperature ranges around 10 degrees Celsius.
Please note that Nathula is a protected area. Foreign tourists or Non-Residents Indians are not allowed here. Indian Nationals require valid Protected Area Permit (PAP) in order to visit Nathula.
Tourists visiting Nathula Pass need to get the permit done through a local tour operator authorized by Sikkim Government Tourism. And one can visit Nathula only by a vehicle provided by such tour operators. Private taxi or self driven vehicle is not allowed at all. The entry permit is issued by the Sikkim Tourism Department in Gangtok.
Tourists seeking entry permit need to carry original photo ID proof like Passport/Voter Card/Aadhar Card (PAN card is not accepted) and two passport size photo. Applications for entyr permits are done in the morning and the permits are usually issued in the afternoon or next day. Therefore you should apply for the permit at least one day before your scheduled visit.