Lachen Monastery
Lachen Monastery is Nyingma Buddhist monastery, located near Lachenin Northeast Sikkim. The spellbound views with the decent backdrop for the great click are quite impressive. Lachen Monastery is all about beauty no boundaries. Lachen Monastery was built in 1858 AD by the Nyingma Sect of Tibetan Buddhism. This sacred placeis decorated with different stuffs that make it wonderful to watch for all who come over here. The colorful prayer flags and prayer wheels along with the grand entrance of Lachen Monastery are quite relaxing and peaceful. The statue of Guru Padmasambhava is something that you should not miss out and the whole area is well decorated. The mind blowing walls and the spacious area are designed comprehensively.
Lachen Monastery indicates the strong spiritual ambience in Lachen. The detailing with golden and red paints on the walls is a must visit and almost covered by the maximum tourists. This monastery is not limited to the spiritual beauty but also offers a plethora of historical artifacts. One of the best backdrops for grabbing the moment spent here.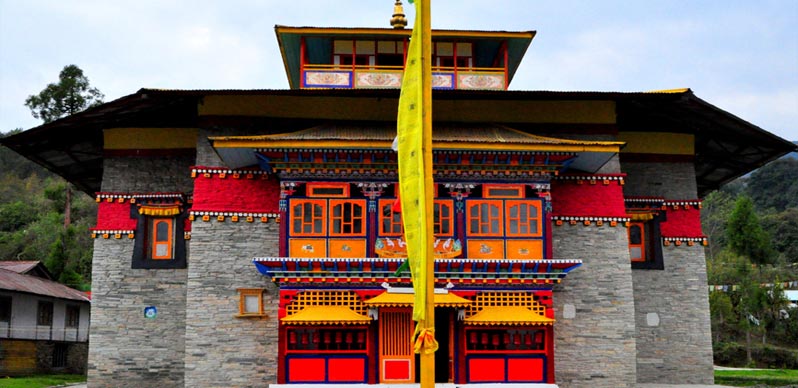 Points Of Interest :
Lachen Monastery is constituted with many attractions and points of interest. You can make your day by wandering to this place and it surrounding is also mind blowing. Lachen is very small town in North Sikkim and beautiful place to visit. It is famous place to visit in Lachen. Visiting Lachen Monastery is amazing experience as the view of the beautiful snow mountain peak is awesome looking from here. The architecture of the Monastery is having traditional look and its entrance fetch you to the center of the property.
Getting There :
This ancient Lachen Monastery is historical place of visiting here is educational experience for tourists. It is located in 1 km from Lachen and getting here is better to walk.
Dos And Don'ts :
Before taking photographs, seek permission
Follow the custom and culture of the place.
Travelling is easy with travel guide who can let you cover all the relevant places for visiting.
Take care of the accommodations and search properly before being at the place.
How To Reach :
If you are willing to unfold the beauty of the Lachen Monastery there are multiple ways to reach here as follows:
Road : Several private transportation will lead you to the Monastery such as buses, taxi, and cab
Airways : Bagdogra is close to domestic airport of Lachen and reaching to the destination will take around 4 hours.
Railways : Darjeeling railway station will be popular and affordable choice for maximum tourists.