Khecheopalri Lake
Khecheopalri Lake is the holy lake for Buddhists. This lake is 34 km away from Pelling and all tourists will enjoy the evolution of this lake. This lake has more to explore and it derives the experience from the objectives of having the best experience where there is no scope to compromise on any of the thing that makes your holiday experience memorable. This lake view is mesmerizing and tells a story. This lake is for all those people who look out for the biggest experience in biggest close to nature set up.
This lake has a versatile view and it has many facts like lake is not having leaves on the water though it is fully surrounded by forest. Khecheopalri is pronounced as a catch-a-Perry which means the "heaven of Padmasambhava". If you want to experience the best view of the lake then you need to head to vantage point which is half an hour climb from the lake. Once you reach the viewpoint has a small house and seats for the tourists. When you look at the lake during sunset, it looks mesmerizing. There are small cottage for when you take a view from the lake. It is good to experience sometimes basics stuff when you travel. The lake was formed by the ancient era glacier and took some 3500 years and now this is becoming day by day a major attraction for the tourist.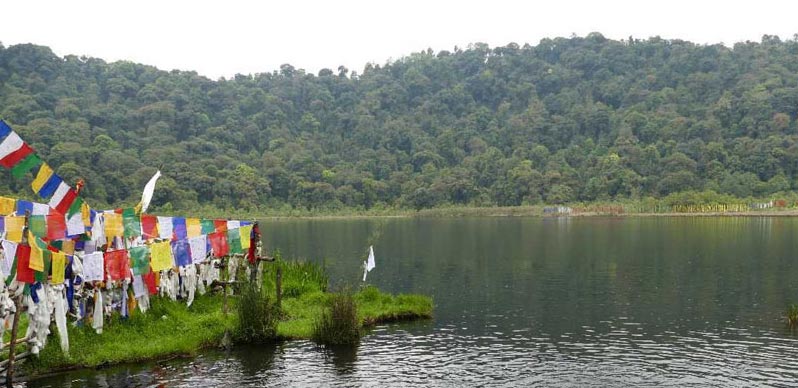 Khecheopalri Lake is in West Sikkim and not explored by many people yet. This lake is the part of many myths and visitors must remove their footwear before walking inside. This lake is around greenery and the best part about this lake is that between March to April every year the religious fair happens.
How To Reach Khecheopalri Lake :
You must know that there are no airports or railway stations in Pelling yet. You can access here via reaching out to Pelling which is well connected to the Gangtok. To visit Khecheopalri Lake there is other mediums like jeep, taxi services and cab.
Best Time To Visit :
From October to May is an ideal time to visit this lake. The summer and spring is the best time to visit this lake. The rainy season is avoiding duration to visit this lake.
Food :
The different drinks and dining experience can be experienced there. The local foods have its own unique style of casual and give you the wonders of street food.