Flora Fauna Sancturies
Sikkim or Himalayan wonderland is known for astonishing variety of beautiful birds, animals and flowers - more than 450 species of birds, 400 species of butterflies, 450 varieties of orchids, and 40 species of rhododendron. Being located on the high altitude that varies from sea level to summits that touches skies, the flora and fauna of the state naturally captures a wide spectrum. It is really wonder! Though Sikkim is a small state but one can find all varieties of flora and fauna ranges from tropical to alpines. It's botanical and zoological richness is stupendous, possessing more than four thousands species of plants and thirty per cent of all the birds found in the Indian sub-continent. And that is why Sikkim has been dream destination of naturalist for long time.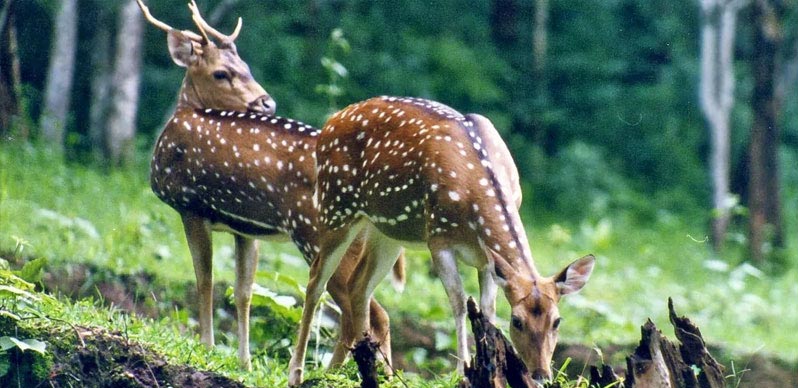 Varsey Rhododendron Sanctuary
Varsey Rhododendron Sanctuary or Barsey Rhododendron Sanctuary is sprawls over 104 square kilometers situated in the Singalila Range in the Southwest corner of Western Sikkim. It is a must-visit place during late spring. The Rhododendron - the national flower of Nepal as well as the state flower of West Virginia and Washington bloom during March and April. This beautiful flower sanctuary can be reached from three points - Hilley, Dentam and Soreng. But the most popular entry point is Hilley as it is approachable by road and Varsey is only four kilometer trek from this point.
Tourists need to climb approx 90 steps to reach the border gates and memorial. It may be tiresome climbing this high altitude. So, it is always advisable to take it easy and do not rush up the stairs.
Maenam Wildlife Sanctuary Namchi
The Maenam Wildlife Sanctuary located in the south Sikkim district covers an area of around 35 square kilometers is an abode of medicine as it houses rich assortment of medicinal plants and herbs. Situated at an altitude of about 10,600 feet is a must-visit attraction in Sikkim. Here you can see species of the temperate forest such as Red Panda, Serow, Goral, Barking Deer, Leopard-Cat, Marbled-Cat, Civet-Cats, and birds like Common Hill Partridge, Blood Pheasant, Magpies, Blue necked Pita, Sunbird and Black Eagle.
Shingba Rhododendron Sanctuary
The Shingba Rhododendron Sanctuary surrounded with striking mountain ranges of the mighty Himalayas is located in Yumthang Valley (known as valley of flowers) in North Sikkim. The sanctuary is blessed with forty species of Rhododendron plants. Spring season is the most suitable time to explore this sanctuary when flowers sprawl far and wide and become awe-inspiring. It is also rich in natural vegetation and numerous other species of plants and trees like potentillas, primulas, saxifrages, poppies, aconites, gentians etc. can be seen. The sanctuary is easily accessible from Gangtok (only 7 hours of drive from the capital city). The best time to visit Shingba Rhododendron Sanctuary is from April to July when tourists can see the blooming Rhododendron flowers.