Yumthang Valley
Witness the magic of the nature with the natural beauty of the impeccable mountains and the surroundings full of flowers with the Yumthang valley. Situated in North Sikkim and offers numerous serene beauties that nurture soul. It is located 140 km away from Gangtok. Get bewildered with picturesque view and breathtaking surroundings by doing Yumthang Valley tour.
Explore Yumthang valley with the guide so that your traveling will be full of comfort, less time consuming and affordable. Before heading to the Yumthang valley, get to know best time to visit and things to do along with other detail.
Best Time To Visit Yumthang Valley :
This place is surrounded by flowers and has been called as the "Valley of Flowers". The rare view and exotic location is mind blowing. This place is situated in 3564 meters and perfect view for the natural lovers and it houses the Shingba Rhododendron flowers that bloom from February to June.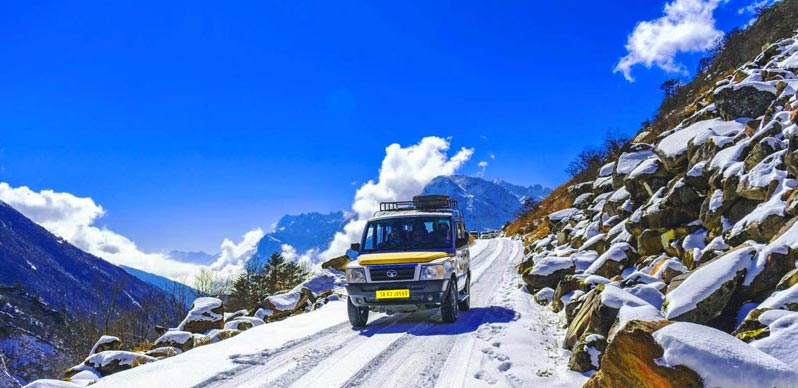 Permits :
Yumthang valley is under army control so protected area permit is must to visit this place which you grant from Gangtok Tourism office. There are alternative also through tour operators also you can arrange the permit.
Accommodations Near Yumthang Valley :
In Yumthang village you cannot stay as there are no staying hotels and resorts there. You can stay at the forest resort that is also at night only. Otherwise you can stay at Lachung and cover Yumthang valley. All basic amenities are available in hotels of Lachung so you can stay and relax so well.
How To Reach :
Traveling by rail is one of the convenient options to access here in Yumthang valley and the nearest railway station is New Jalpaiguri in West Bengal.
Refund :
In regard to refund of unused / unutilized services (which are paid for and cancelled in advance) the refund amount would be worked out on the basis of cancellation policy as described above and the money would be accordingly refunded to the person who has made the payment to us. Please note that the refund process may take 2 - 4 weeks due to banking procedures. If the refund is made to the credit card account OR to Bank account, the bank charges would be debited from the refund amount.
Temperature :
Yumthang valley weather is always cold throughout the year. The valley with a snow capped mountains gives spectacular view altogether. Any individual can have fun coming over here in every season but summer is the best time to come. Winter starts from December to March and temperature go upto 10 degree c. The valley looks mesmerizing when covered with snow in winter. Avoid being there in winter with kid's upto 6 years to 7 years.
Why This Place Called Zero Point? :
Yumthang valley is called Zero Point because it is the last point of all Civilian roads. The view is impeccable and looks absolutely stunning when Yumthang valley at zero point. Zero point does not offer good atmosphere throughout the year so it is better to be there during summer.