Tourist Attractions In Lachung
India is having lot of tourists attractions based places for the amazing vacations and North Sikkim is also considered as a heaven. You cannot spare yourself from the heavenly beauty of Lachung as it is wanderer's favourite. Lachung contains all that eye candy and soothing appearance that send the good vibes to the soul and makes it positive. The nature beckons tourists to make their vacations lively and cheerful. This small village is situated in the area 118 km from Gangtok and at the altitude of 8610 ft.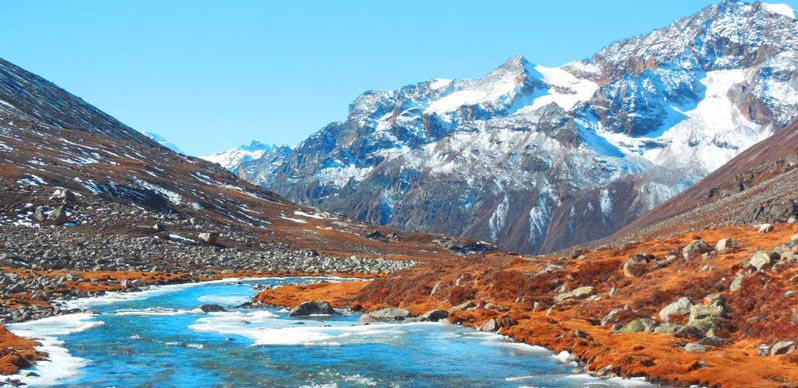 No wonder, there are many escapades for different kind of people from photographers to honeymooners, and adventurous people. Also many marvelous places are here to visit in Lachung that cannot be missed out for the nature lovers. It will introduce you all serene and picturesque beauty and the magical flower spread with high mountains looks super lovely. It provides you humble feeling and keeps you in good state of mind by letting you experience the peace. Who can stay away from the wildlife sanctuaries, snow capped mountains, Buddhist monasteries and many more attractions that you will experience when you visit to the place itself. The tour package of Lachung includes airport transfers, cab, resort, sightseeing, meals.
Lachen is best place to unfold the true scenic beauty, alpine pastures, mesmerizing beauty of lakes and valleys and wooden homes. This become popular and now one of the most visited tourist place for short and long vacations. Perfect for romantic date, honeymooners and for family trips and the key attractions of Lachen are Lachen Monastery, Chopta valley, Thangu valley and green lake and many more that will take your breath away.
This place is utter delight for the nature lovers and birdwatchers Lachen is also good in hospitality as many hotels and resorts here make your trip easy and unforgettable experience. All the Indian travel and tourism industry has covered the unbeatable beauty of the Lachen. Visiting the lakes, valley that you see only on-screen, now is not far away from your off-screen picturesque view. Interacting with localities and their way of living, day to day lives happening and their lifestyle is a natural form of exploring the place. Travel to Lachen will make you discover many more things apart from the breath taking sightseeing.
Plan your vivid trip to Lachen and experience many attractions and things to do in Lanchen.
Points Of Interest :
Other than Yumesamdong valley, there are other attractions also that will beckon you to cover. The Mt Katao, Yumthang valley and Mankhim temple are the lovely places; you can visit and cherish your day of traveling.
Few places to visit in Lachung :
Yumesamdong :
Yumesamdong is one of the most frequent tourist places in Lachung located near Yamthang. It is the most famous place to visit in Lachung and the three amazing rivers are the center of attraction with the snow clad peaks. The realization of the exemplary beauty that you never stored anywhere else the way you have seen in Yumesamdong. This is the most chilling out place if you are planning for Sikkim holiday and set yourself ready for an amazing vacay. Visiting here will be memorable holidays for tourists.
Things To Do :
The cold weather of Lachung leaves snow capped mountains and ice fed valley that looks so mesmerizing. The natural view will let you explore more. The view will make you adore this place lot and when fresh air touches your soul then you realize you are somewhere in heaven. The nearby places such as Yumthang and katao are also the good option for visiting.
Accommodation :
You will get few decent hotels and resort for the relaxing stay here. At very affordable price you can get the accommodation with basic facilities. There are few places near the valley where there is no road further as it is covered with snow. The feel of filmy view will give good vibes and outstanding picturesque beauty.
Food :
The hotels and resorts foods are amazing to try out as they offer unification of taste with different spices. The number of restaurants is also there for chilling out also without compromise on tasting buds. There are few restaurants where you will see the live performance of musical band. The combo of music and food culture is always welcome for tourists.
Best Time To Visit :
This is the place where you can visit from March to May as during this time you will experience the snowy place. The feel of heaven will make you love with the snowy views. Enjoy the beauty and peace here with you family.
How To Reach :
Yumesamdong valley is 26 km away from the Yumthang valley. Better you reach with cab as other medium of transportation is not accessible to this place.