Khangchendzonga Waterfall
Khangchendzonga waterfall is one of the best tourist hotspot featuring a miraculous view of the combination of the chilled water and green vegetation backdrop. This hilly area makes a complete picturesque experience soothing. Getting over this place means full enjoyment and exploring things differently. The thrilling experience of ropeway for crossing is ultimate idea for generating enthusiasm for the Khangchendzonga tourists. Khangchendzonga waterfalls offer blend of scenic beauty with the waterfalls on mountains nd traveler has to climb to reach the foundation of the fall.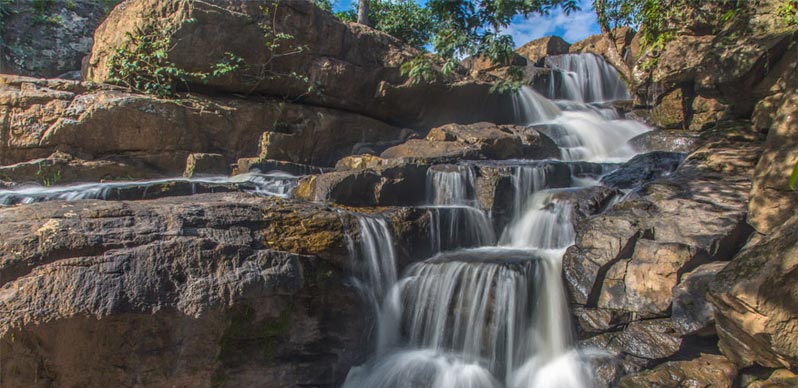 The Khangchedzonga waterfall is one of the best falls in Pelling. It is so natural and real beauty and there is no artificial decoration so good spot for clicking different pictures with friends, family nd loved ones. The newly wedded couples will get relaxing and peaceful atmosphere for the romantic date.
Honeymoon Spot :
The breathtaking view of the Khangchedzonga attracts honeymooners from far flung regions. It has a natural beauty and nothing is artificially decorated. The thick forest and the tranquility attract nature lovers.
How To Reach Khangchendzonga Waterfall
It takes 25 km to reach Khangchedzonga waterfalls from Pelling and going there is random by doing cab and other taxi services. This place is located just behind the main road so you have not to walk away long when you leave the cab. There is also small ropeway to reach. Accessibility is thrilling and perfect for full of life people. In case you are not comfortable with small stairs then you have alternative to reach to Khangchendzonga falls. The force of the waterfalls view is worthwhile and climbing there is also adventurous.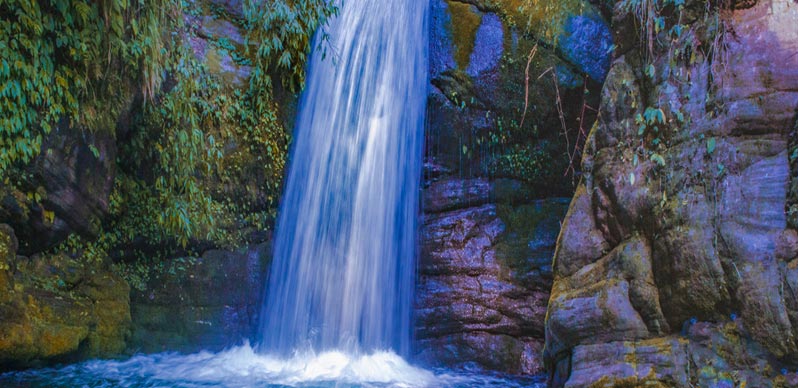 Food :
Reach to the different sweet and spicy snacks via few of the stalls is convenient and stopgap for your little hunger. Hot tea and coffee stalls are also there for the visitors to relax. Going with the family and with friend gives ultimate experience and you can say reunion gathering to boost love with lot of exploration.
Shopping :
There is some local shopping area for localities and for tourists. The bunch of traditional and authentic items for all age group is available. People are discovering complete package from shopping to appetite to grand view of authentic hotspot. Shopping includes some chunky jewelleries, traditional outfits.
Best Time To Visit :
Though you can visit this place anytime around the year but when it comes to best time to visit then you should opt for September to May.