About Darjeeling
The queen of the hills is a Himalayan city in the Indian state of West Bengal. It is internationally renowned as a tourist destination for its spectacular view of Mt.Kanchandzonga, along with its tea industry and the Darjeeling Himalayan Railway, a UNESCO World Heritage site. One can have the view of entire Singalila Range along with Mt.Kanchandzonga, Bhutan Himalaya and a part of Everest range from Darjeeling. The eye caching valleys, meandering rivers and of course the lush green tea gardens are the unique features of Darjeeling .Beside all these the main attractions of this popular hill stations are Himalayan Mountaineering Institute (HMI) , Himalayan Zoo , Tiger Hill , Rock Garden , Batashiya Loop.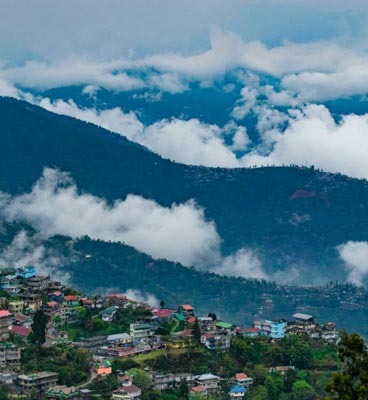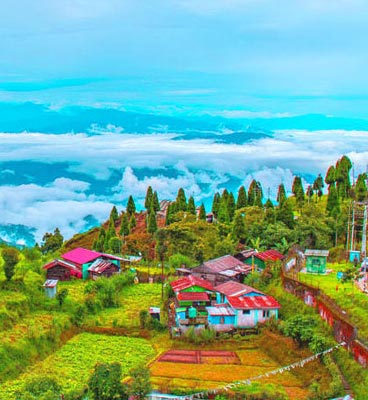 Darjeeling Himalayan Railway (DHR):
The Darjeeling Himalayan Railway, also known as the "Toy Train", is a 2 ft (610 mm) narrow gauge railway that runs between New Jalpaiguri and Darjeeling in West Bengal is about 86 kilometres (53 mi) long. The century old train has been declared as World Heritage by UNESCO in 1999. The construction of DHR was started in 1879 & was fully functional in 1981. Its elevation level varies from 100 metres (328 ft) at New Jalpaiguri to about 2,200 metres (7,218 ft) at Darjeeling. A journey from Siliguri to Darjeeling (approx 7hrs) or a joy ride in Darjeeling will be lifetime experience for any tourist.
Himalayan Mountaineering Institute:
The Himalayan Mountaineering Institute was set up by the local hero Tenzing Norgay Sherpa following their successful ascent on Mount Everest on 28 May 1953 during 1954, this unique institution trains mountaineers. Apart from Tenzing, legendary mountaineers like Nawang Gombu ( First man to climb Everest twice ) and Lattoo Dorjee Sherpa have helped build the reputation of this pioneering institute. The institute is presently under the purview of the Ministry of Defense, Government of India. It is situated on Jawahar Parbat about 2 Km from Chowrasta.
The oldest mountaineering institute in the country carries out various mountaineering courses every year as well as has the very good collection of mountaineering equipments which have been used in various mountaineering expeditions and other wise. The traces of attempts made to conquer Mt. Everest have been kept in the Mt. Everest Museum. The institute also screens short films on mountaineering. You can also view the Himalayan peaks through the Zeiss Telescope given to the Nepalese Maharaja by Hitler. Sherpa Tenzing Norgay was the Director of this institute for many years and he was cremated near the institute after his death in 1986.
Tiger Hill
Situated 13 kilometers from the town at an altitude of 2590 meters (8482 ft.), has earned international fame for its magnificent view of the sunrise over the "Kanchanjunga" and the great eastern Himalayan peaks. On a clear sky even Mount Everest, the world's highest peak, is visible from here along with other Himalayan giant Lhotse,Makalu,Janu,Rathong,Kabru, Pandim,Simvo and Siniolchu.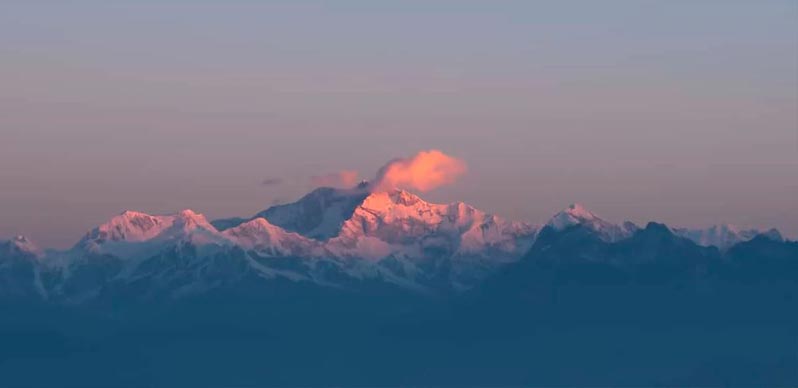 Kalimpong
At an altitude of 1250m, this tranquil hill station is located on top of a ridge on the east of river Teesta. Kalimpong is known for its educational institutions many of which were established during the British colonial period. It used to be a gateway in the trade between Tibet and India prior to China's annexation of Tibet and the Sino-Indian War.
The town is famous for its indigenous handicraft. The artisans here produce Tibetan and Bhutanese handicraft and jewellery such as woodcarvings, copperware like feng-sui bells, tapestry bags, scrolls, paintings and Tibetan jewellery.
Horticulture is also important to Kalimpong: it has a flower market notable for its wide array of orchids; nurseries, which export Himalayan grown flower bulbs, tubers and rhizomes, contribute to the economy of Kalimpong. Home to ethnic Nepalis, indigenous ethnic groups and non-native migrants from other parts of India, the town also is a religious centre of Buddhism. The Buddhist monastery Zang Dhok Palri Phodang holds a number of rare Tibetan Buddhist scriptures.
Lava & Loleygaon:
These two places are the recently invented hamlets in the lap of the nature. Lava is 32 km. away from Kalimpong is the entry point to the beautiful Neora Valley National Park from Kalimpong. The route to Lava is scenic with the change in vegetation from tropical deciduous to the wet alpine trees of fir, pine and birch . Loleygaon 24 km from Lava lying at an altitude of 1,675 meters in the Darjeeling District of West Bengalis is a small Lepcha village situated in an extreme end of a Himalayan Ridge offers a magnificent view of Mt.Kanchandzonga range. One can get closer to the nature by walking on the canopy bridge in Loleygaon.